At Walk Mill Textiles we offer a bespoke handmade curtain make-up service in a fabric of your choice.  All our curtains have hand sewn side seems and hems and can be interlined and blackout lined. Just let us know your requirements.
You can send us your fabric or we can source it for you – just forward the website link.
Please contact us for a quote stating your pole width, finished length and preferred heading.
Curtain Making Prices:
Full Quotation and Price Breakdown Available on Request. 
We can make curtains to fit tracks/poles up to about 2.8 metres (or 2 widths in each curtain) x 2.5 metres drop. I just don't have room to make anything larger. Sorry.
Making up cost for standard Pencil Pleat, lined curtains with hand sewn hems and sides is £35 per width or part width of fabric used, up  to a finished length of 150 cm. £45 per width or part width of fabric used for finished lengths over 150 cm. Plus the cost of your fabric, linings and heading tapes.
Alterations (clean curtains welcome) – price on request
Amount of Fabric Required:
The width varies according to the heading style. It is usually about 1.5 – 2 times the track length for pencil pleat tape and 2.25 times track length for pinch pleat.
The cut length needed is the drop  + 25 cm.
If the fabric has a pattern that needs matching I need to know the length of the pattern repeat. If in doubt, send me a sample or direct me to the fabric website link.
Measuring for Curtains.
Firstly, measure your track or pole width.   To get a soft gathered look when your curtains are closed, use your pole or track measurements as a starting point and multiply it by x 2.
Measuring curtain length
Decide where your curtains will end:
Sill Length. End 1.25 cm (1/2″) above the windowsill
Below sill. End 15 cm (6″) below the windowsill
Floor length. End 1.25 cm (1/2″) above the floor.
Radiator below your window? Curtains should end 3 cm above the radiator to allow the heat to circulate into the room rather than raising up behind the curtains.
I will need the hook drop, and any heading required above the hook.                                 Also, track/pole length.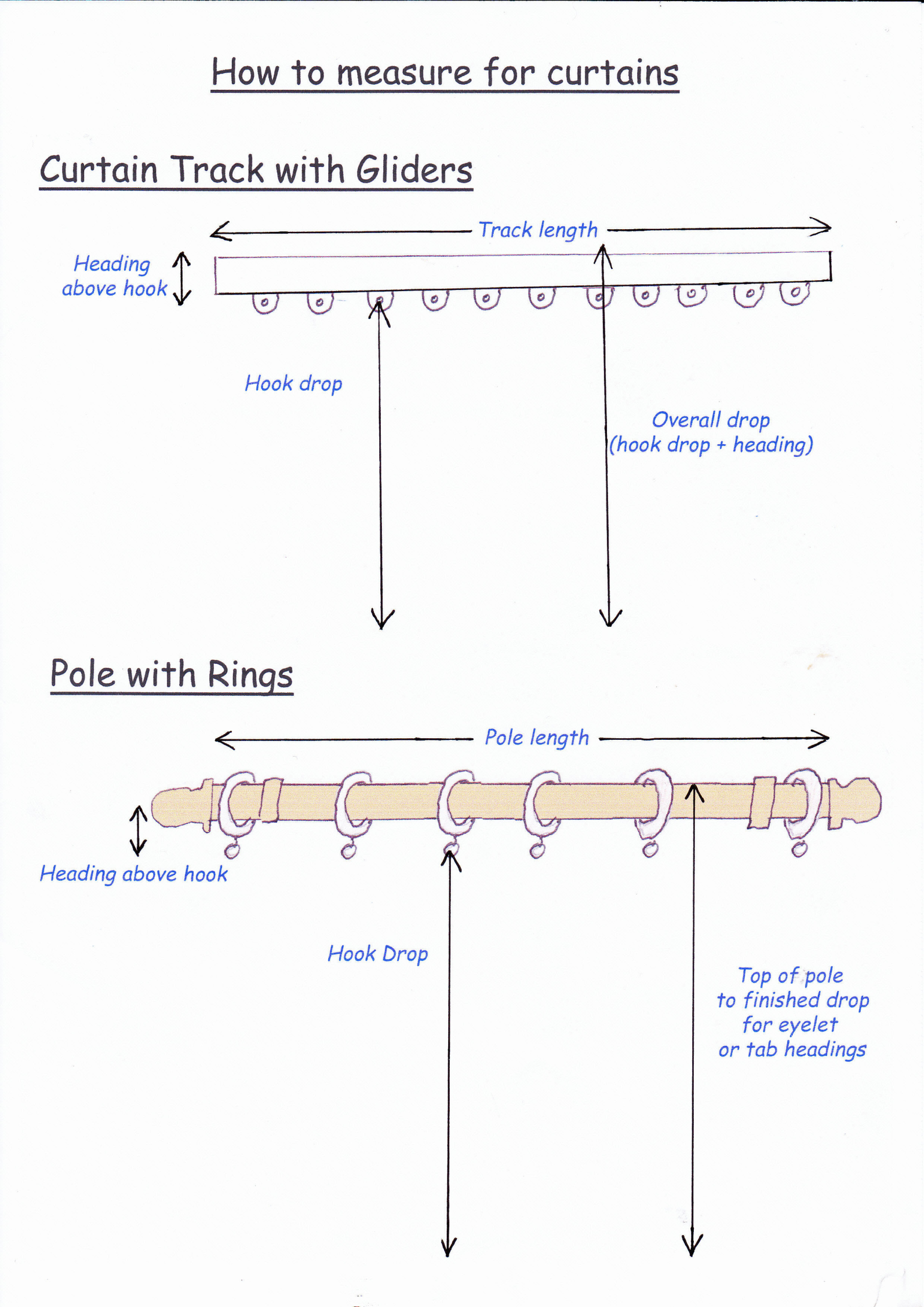 Things to remember:
Measure at multiple points. Windowsills and floors are not always level, so measure at 2 or 3 points and use the smallest measurement to ensure the best fit.
Header tape. Our pencil pleat curtains come with a 3″ header tape. This allows some flexibility if your want to give the appearance of more length. 6″deep header tape is also available and recommended for full length curtains.